A QUICK HISTORY OF CHAING MAI
King Mengrai was a powerful leader who gathered the migrating Tai from Yunnan into the first real kingdom of the region, and Chiang Mai – meaning 'new city' became its centre. The Old Town that we love and admire today was laid out as a square mile according the cardinal points and auspiciously begun in 1296 with the digging of the moat and construction of city walls that partly still stand. Surviving and thriving through a glorious and sometimes tumultuous reign of fortunes, Chiang Mai has become one of Thailand's true cultural and historic treasures.
The Ping valley was large enough for widespread rice cultivation and the mountains provided an excellent defense against invaders. Tradesmen and craftsmen were attracted, impressive temples built and the city flourished for centuries through to its zenith under King Tilokarat in the 16th century. It was at that time that the towering 96 metre pagoda of Wat Chedi Luang (Royal Pagoda temple) was erected, only to be fell to half that height in a 1545 earthquake. Other temples, such as Wat Chiang Man and Wat Phra Singh date from the 14th century and contain valuable ancient Buddhas. Laos and Burmese or Shan influences can be seen in this ancient architecture. Even the famed Emerald Buddha, Thailand's national heirloom, once resided in the city.
As the kingdoms to the south – Sukhothai, and later Ayuthaya – rose to prominence, Lanna's influence was trumped, though the kingdom did manage to retain autonomy right up to the early twentieth century when it was absorbed into the modern democratic monarchy of Siam. However, during the Middle Ages the city fell on hard times. It was under Burmese control for two hundred years, at one point being almost entirely emptied of people.
When the Siamese regrouped after Ayuthaya had been sacked by their bitter rivals from Burma, a modern state was re-established in Bangkok and a Northerner, General Kawila, was sent to liberate Chiang Mai, so that it came back to Thai control at the end of the 1700s. The city walls and moat were restored in 1801 and foreigners soon made their first appearances. In fact, explorer Ralph Fitch recorded in his voyages of the 1580s that he visited a 'fair and prosperous town call Jamahey', and by the mid-1600s British trading pioneers had arrived. But it was not until the 1800s when teak traders from Burma regularly visited Chiang Mai. However, for centuries before this, Chinese traders had gradually established a Sino community in the city, and the ethnic heritage has been passed down to this day, with the area around Warorot Market forming a Chinatown.
All the same, getting to Chiang Mai was a very arduous trip by river skiff or elephant. When the railway line arrived in 1920, along with the telegraph, the city's isolation came to an end and by 1932 it had become a province of Siam (later Thailand). It is today, the second largest of Thailand's cities by population and commerce. Significantly, it has developed one of the region's largest handicraft industries, with ancient and contemporary skills and styles on display at Baan Tawai and Borsang craftsmen villages. The items made here are exported around the world.
The last of the Northern royals are still alive, and the last Chiang Mai King's daughter became a favourite consort of King Chulalongkorn in 1900 – today the Dara Rasamee legacy of longan farming and Northern traditions are common in Chiang Mai. Importantly, the city and its people preserve their Lanna heritage, speaking their own dialect, dressing in local costume on Fridays and upholding unique ceremonies, of which Yee Peng, and the launching of lanterns for Loi Kratong, are the best loved.
During the twentieth century it was agriculture that sustained the city, namely rice, fruit (mainly lychees and longan) as well as teak. Logging was phased out in the 1980s, and the political situation settled down, enabling tourism to thrive. By the turn of the century the new gold rush of tourist dollars transformed the city. Starting first with cheap digs for trekking backpackers, Chiang Mai has since evolved into a boutique guesthouse and coffee shop capital of Southeast Asia, retaining its charm defiantly under the pressure of traffic, malls and billboards. Yet, a short drive out of the city is the timeless nature of the mountainous north, with all sorts of soft adventure activities now offered.
Both Travel + Leisure and Conde Nast magazines have rated Chiang Mai as a top worldwide destination (from reader polls) in recent years. We hope you enjoy exploring the magical Chiang Mai.
GOOD TO KNOW ABOUT CHIANG MAI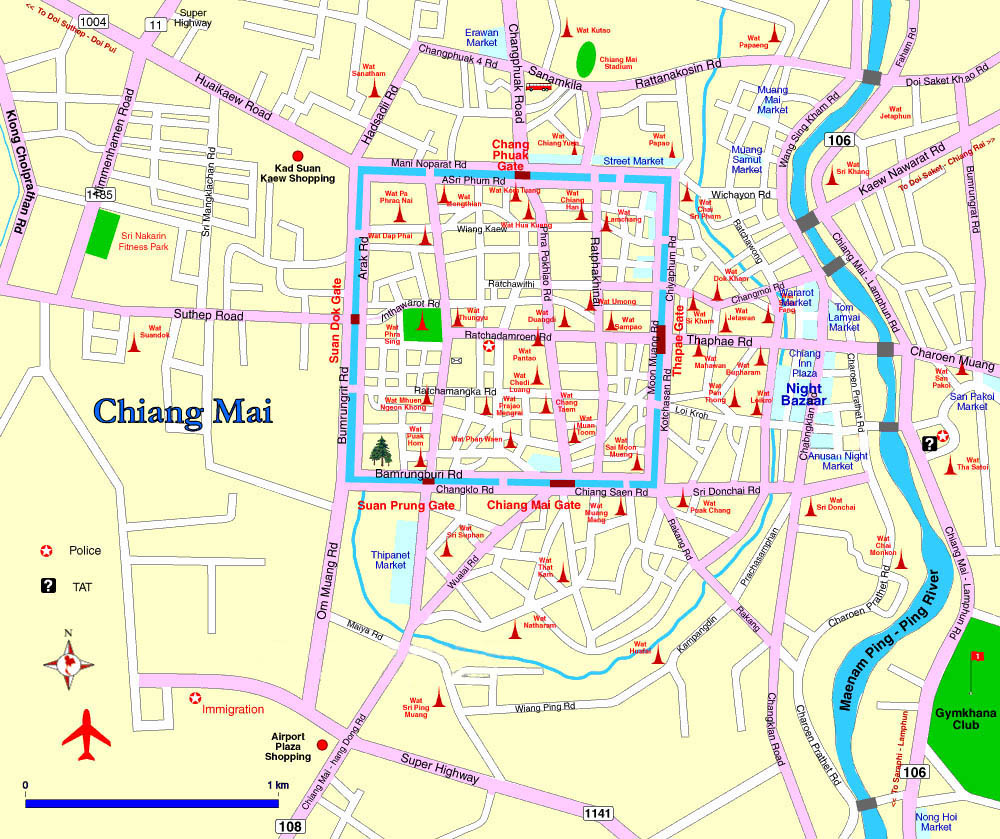 Chiang Mai International Airport
Chiang Mai International Airport is a major gateway to Northern Thailand, and currently the fourth busiest airport in the country.
Address: 60 Mahidol Road, Su Thep, Muang, Chiang Mai 50200 Code: CNX Phone: 053 922 100
Chiang Mai Railway Station
Chiang Mai Railway Station is the 1st class station and the main railway station in Chiang Mai Province. This station is on the east side of the Ping River in the city of Chiang Mai.
Chiang Mai – Local Transfer Information Chaing Mai Train Station has local buses and taxis connecting to Chaing Mai Bus Station.
Quick Facts on Chiang Mai Train Service Thai Railways runs 14 trains a day (of a variety of service types) from Bangkok to Chiang Mai. Travel Time to Bangkok is 12-14 hours
Address: Wat Ket, Mueang Chiang Mai District, Chiang Mai 50000
It's normally possible to buy a ticket on the same day of travel, but it's advised to book a few days in advance.
Chiang Mai is about 700 kilometers from Bangkok which takes about 9-10 hours by bus. Other popular destinations include Pai (3 hours), Chiang Rai (2.5 hours), Lampang (1.5 hours), and Sukhothai (4 hours).
Address: 165, Soi 5, Kaeonawarat Road, Wat Ket, Muang, Chiang Mai 50000
Tel: +66 (0) 94 746 4729