Welcome to the best Thai cooking class using organic ingredients from our own garden and in the best location beside the Ping River.
Our aim is to give all of our students a unique cooking experience in a fun and friendly atmosphere. Moreover, our desire is that participants are able to reproduce these dishes at home.
Full Class (5 dishes of your choices): 2,500 baht/person; class starts at 2pm
Mini class: (3 Dishes of your choices) THB 1,500 per person; Class start at 11 am. Or 4 pm.
Non-guests: 400 baht/person
Menus are adjustable to vegetarians or food restrictions.
Reservation should be made one day in advance.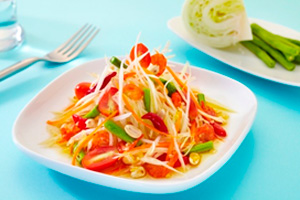 An easy-to-make favorite dish for local. The most refreshing salad you will ever taste!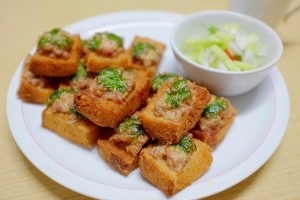 A simple light dish that everyone familiar with. Very easy to cook as the main ingredients you need are just only bread and pork.
Spicy Prawn Soup
(Tom Yum Kung)
The most famous thai soup of all! 'Tom Yum' means spicy and sour soup made of unique combination of thai herbs and spices. A must try!
Spicy Coconut Milk Soup
(Tom Kha Kai)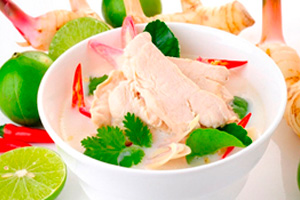 A mix of creamy coconut soup, chicken and thai spices. A good fit of spicy and sour taste.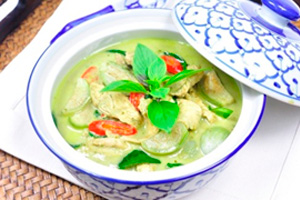 One of the most popular thai curry containing coconut milk, green chili paste, eggplant and chicken. Surprisingly easy to make!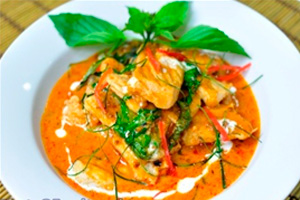 Thick dry creamy curry made of red curry paste witha bit sweetness and aromatic smell of thai herbs.
Stir Fried Dishes (choose 1)
Stir Fried Thai Noodle
(Pad Thai)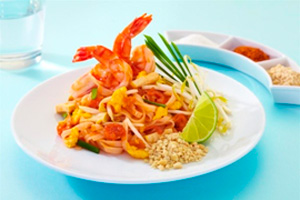 Thailand's most well-known noodle dish. Stirred fried rice noodles in tamarind sauce, topped with fresh bean sprouts and chives.
Stir-Fried Chicken with Cashew Nuts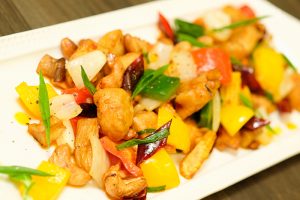 A wildly contrasting textures of chicken, cashew nuts, sweet soy sauce, onion, chili, pepper, carrot and mushroom. Simple but scrumptious!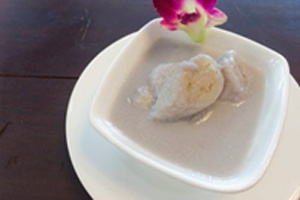 Thai bananas bathed in creamy coconut milk. A delicious sweet treat.
Sticky Rice with Mango
(Seasonal)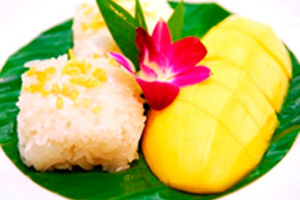 Thick dry creamy curry made of red curry paste witha bit sweetness and aromatic smell of thai herbs.
Black Sticky Rice Pudding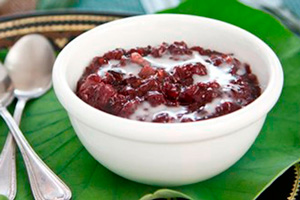 Naturally sweet, dark rice with coconut milk. A delicious dessert filled with fiber and loads of antioxidants.