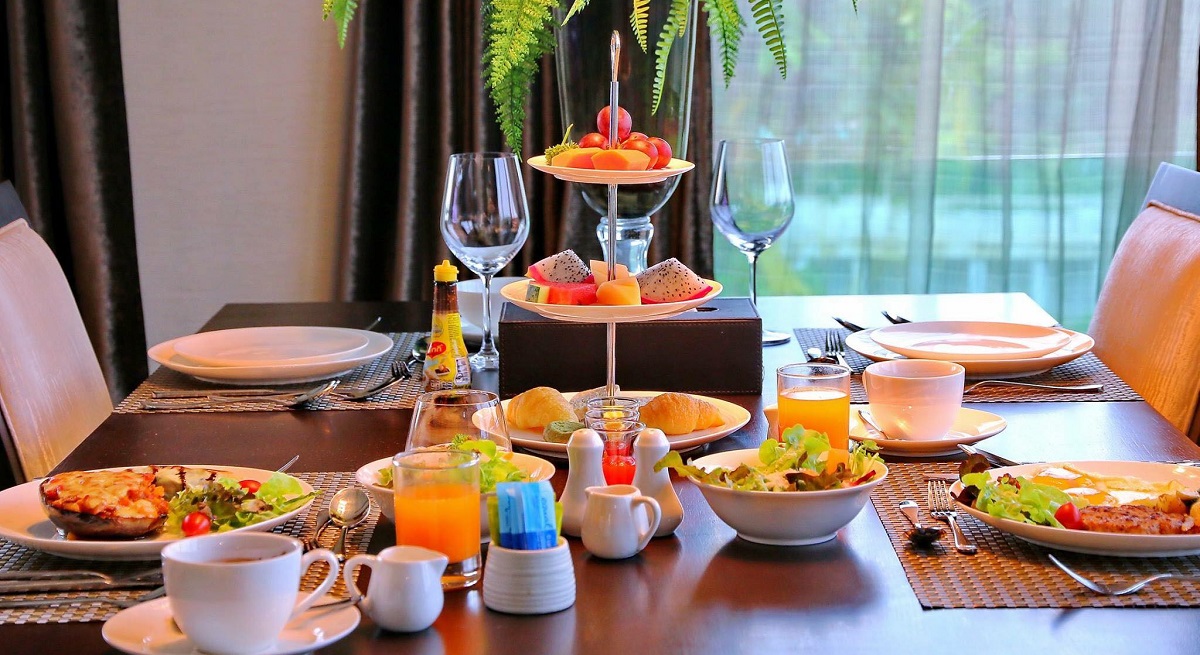 Fresh orange juice.
A selection of toasted grain breads, mini croissant, served with organic preserve and French butter.
Organic tea or press coffee.
HIGH FIVE BREAKFAST
Two organic eggs of any style, ham, bacon and chicken sausage.
Sautéed shitake mushrooms and spinach, together with grilled new potatoes with sliced onion and pungent flavor of rosemary.
TASTE OF LANNA
Gaeng Hang-lae (Northern Thai pork curry).
Nam Prik Ong (Thai Northern style tomato and minced pork relish) with boiled local vegetables. Grilled pork on stick.
Steamed sticky rice wrapped in fragrant banana leaves.
TASTE OF ASIA
Boiled rice porridge with a choice of pork, shrimp or chicken, topped with onsen tamago.
PROVENCE EXPERIENCE
(Vegetarian)
Crêpes fourrées with mushroom and spinach.
Aubergines farcies à la provençale
(Grilled and stuffed eggplant recipe from Provence.)
VIETNAMESE RICE NOODLE SOUP
The round noodles cut directly from uncooked sheets of rice tapioca flour, while toppings include boiled pork spare ribs, minced pork, moo yor (Vietnamese-style sausage), fried shallots, cilantro and green onions.
ULTIMATE CLASSIC WAFFLES
Homemade fresh cooked waffles, topped with seasonal fresh fruit and almonds,
served with warm chocolate syrup.
Healthy side dishes to compliment your meal:
A mixture of organic greens tossed together with cherry tomato, topped with a light drizzle of healthy Japanese sesame dressing.
Freshly cut seasonal fruits.